They Still Can't Fly, But....
Apparently they can tell you what kind of personality you have. Here is what they say about me...
1. I'm pessimistic and have a tendency to behave negatively.
(Define "behave negatively"...I've never broken the law, but if you are talking about my grammar...I may have used a double negative at one time or another.)
2. I am direct, enjoy playing devil's advocate and neither fear nor avoid discussions.
(*snort*Yeah right...I am the Queen of Avoidance!)
3. I am emotional and naive. I care little for details and am a risk-taker.
(While most of that is true, I am far from a risk taker.)
4. I'm a good listener.
(Can you repeat that? - I wasn't listening. )
5. The quality of my sex life is good!
(Yep...I have the sex life of a 75-year-old man on viagra. ;) )
And to think someone got that all out of this picture of a pig I drew...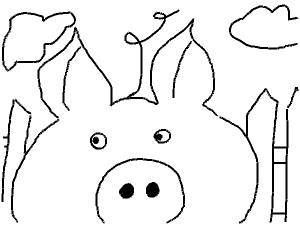 Do you want to what your personality is too? Go
here
to find out!