Our Church Is Prayer Conditioned...
Let me set this up.
Date:
Today
Time:
About 8:00 a.m.
Me:
Driving in my car on a two lane road...
To the right of me:
Homes, a convenient store and a baptist church that always has cheesy sayings (Such as: 'Like Dairy Queen, Our
Sundays
Are The Best' or 'Don't Give Up. Moses Was A Basketcase Too.') displayed on their huge bulletin board/sign. I always like to see what the new message of the week is as I pass on by.
To the left of me:
A graveyard that goes on for miles and miles.
When I pass the church I see this....
(not actual sign)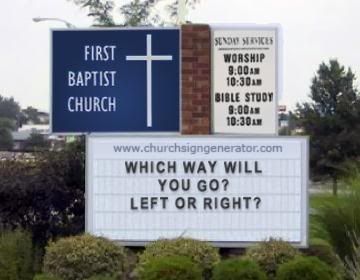 So what exactly do they mean? Are they saying that if I don't go to their church, my fate is to end up in a - *gasp*- graveyard? The last time I checked, everyBODY's (heh heh) last stop is the graveyard...or on a mantle...or scattered out at sea...etc...)
Maybe they are saying that people who attend their church will live forever and have no need for a graveyard? Or maybe they have special underground catacombs? Or perhaps (and this is my favorite) when their parishoners die they just let them sit in their favorite pew seat for eternity with a bible in one hand and a sign in the other saying,
"In the end I may be only bones, but this darn pew-seat is my own."

Which way did I go?
I just kept going straight. :)